Things You Need to Know Before Buying Vinyl Flooring
While vinyl records have gone the way of disco and VCRs, vinyl flooring is in. Experiencing record highs in sales, vinyl flooring is growing increasingly popular with homeowners. This is likely due to the unique benefits that vinyl flooring provides. It's easy to install and maintain, long lasting, and provides a comfortable surface to walk on.
Types of Vinyl Flooring
Vinyl flooring comes in 2 types—sheet flooring and tile flooring. Sheet flooring—which is laid down in sheets that are 6 or 12 feet wide—is water resistant and easy to install. Vinyl tile flooring comes in tile sizes of 9 or 12 square inches; it replicates the look of ceramic tile but is more economical. Luxury Vinyl Tile—which simulates stone or wood—comes in plank shapes, often 7″ wide by 48″ long
Vinyl Finishes
There are 3 types of finishes for vinyl flooring, all of which provide a beautiful end result.
Vinyl no-wax finish: This is the lightest type and is great for areas with light foot traffic and minimal exposure to dirt and moisture
Urethane finish: More durable, this finish is heavier and can stand up to moderate foot traffic and is also resistant to scuffing and easy to clean
Enhanced urethane finish: This is the toughest available and can accommodate the heaviest foot traffic, is highly resistant to scratches and stains, and enjoys a lasting luster without constant care
Cost
Per square foot, vinyl flooring is one of the most economic options of flooring that you can choose. On average, you can expect to spend $2-$12 per square foot to have it installed. Luxury Vinyl Tile—or LVT to those of us in the biz—is similarly inexpensive, costing on average, $3-$14 per square foot for installation. When you compare the cost to wood, stone, or ceramic flooring, vinyl offers a significant cost savings. And if you're handy, you can cut costs even further by installing vinyl flooring yourself. Depending on the complexity of the project, you can expect to spend $1-$2 less per square foot if you perform the installation, but of course we are always happy to install your new flooring
Ease of Installation
Installation of vinyl flooring is typically easier than installation of other flooring materials. A floating vinyl sheet, for example, doesn't require glue or staples. Instead, peel and stick vinyl can simply be adhered to a prepared subfloor. Vinyl flooring can also be installed over concrete, hardwood, or plywood. It can even be installed over existing vinyl; however, it isn't recommended if you have 2 or more preexisting layers.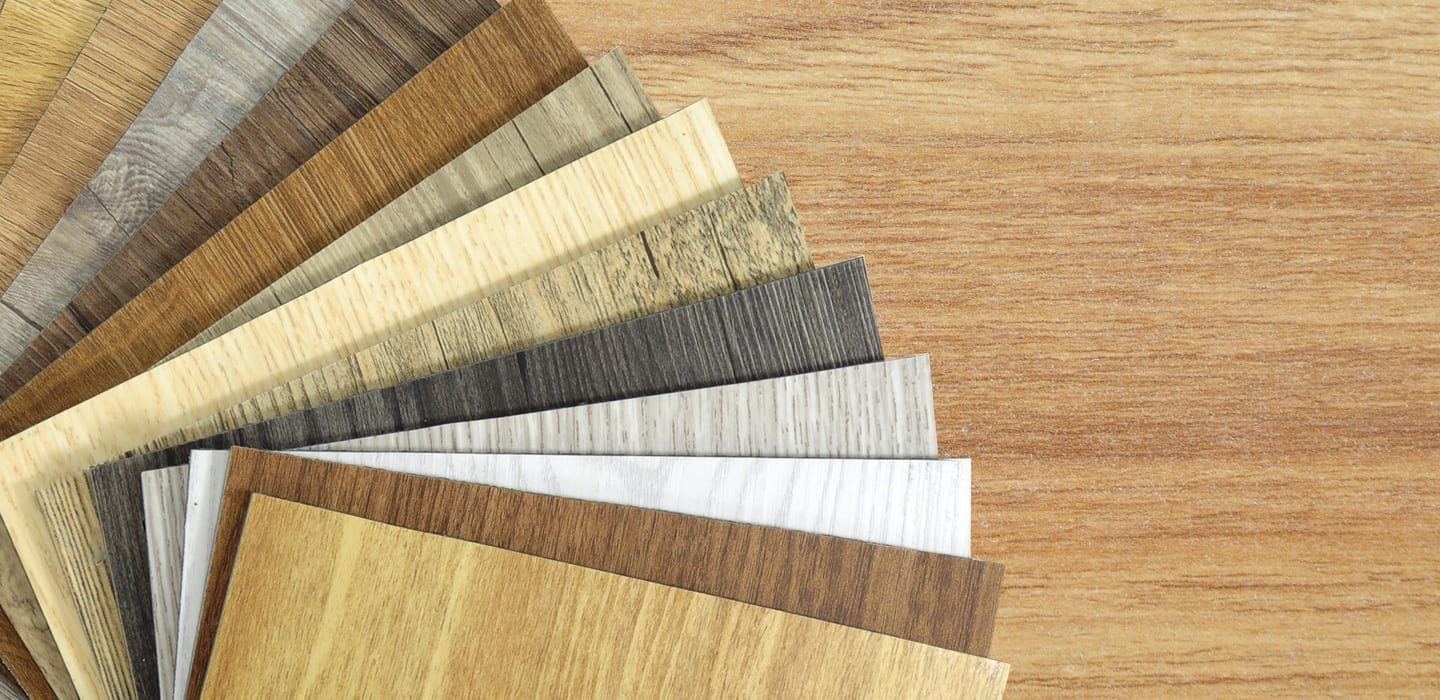 How to Choose Vinyl Flooring
You learned about the benefits of vinyl and you're thinking this may be a good option for you. Now, you're ready to buy, but where do you start? Knowing how to choose vinyl flooring for your home isn't always easy. With so many options available, it's hard to narrow down your choices and make the right decision for your next project
Type of Room
This is an important first step to figuring out which floor is best for your needs. Are you installing in a basement or moisture prone area, such as a kitchen or bathroom? Are you planning to use this in a business, such as a cafe, boutique or restaurant?
Traffic
Second, you will need to consider how much foot traffic the room or area will see on a regular basis. If you're installing your vinyl in an area that will see heavy foot traffic, such as the foyer or in a cafe, you'll want to go with a vinyl that has a higher wear layer, such as a 12 or 20 mil.. If your vinyl will be housed in a guest room or other space with minimal traffic, the wear layer and thickness are not as big of a concern.
What is your style and decor goals?
Vinyl flooring can be found in many versatile decors. Depending on your style, you can find vinyl floors in wood, stone, cement and shabby chic looks. With advances in surface technology, vinyl can be found with beautiful textures to mimic real tile and hardwoods. Vinyl plank flooring can be found with wide planks, multi-plank designs and more traditional plank widths. Adding to the style, beveled edges or square edges are also available.
Subfloor
Your subfloor will be a big factor in how your flooring feels under your foot. If you are installing a vinyl on top of a concrete subfloor, you will have a very hard surface beneath your floor. With a thin vinyl, this will feel like you are stepping on a hard surface. If you install  a vinyl on a wood subfloor or an existing surface, you will have a softer start to your installation. This will still be a solid surface and feel hard, but it will not feel as blunt as a concrete subfloor will

How to Choose Vinyl Plank Flooring
Vinyl plank flooring is an engineered floor covering designed to mimic the look of real wood. When you're choosing your flooring, you'll need to consider the thickness of the vinyl, the wear layer, and the installation method. Armed with this information, you should be able to find the perfect vinyl plank flooring for your home!
Opt for a thickness of 2–3 mm (0.079–0.118 in) for low-traffic areas. If you're covering a small area with low traffic, you can choose planks in a thickness of 2 mm (0.079 in), 2.5 mm (0.098 in), or 3 mm (0.12 in)
Select planks between 3.2–4.0 mm (0.13–0.16 in) for high-traffic areas. Most of the common areas in your home, including the living room and the kitchen, will be best suited by a high-quality plank that is either 3.2 mm (0.13 in) or 4 mm (0.16 in) thick
Choose a thickness of 5 mm (0.20 in) or more for the highest quality. The thickest vinyl planks can be anywhere from 5 mm (0.20 in) to over 8 mm (0.31 in) thick. These planks cost the most, but they are also the most durable and usually look the most like real wood.
Select a vinyl no-wax top coat for the most affordable wear layer. The top layer of your vinyl flooring, or the wear layer, is what determines how durable the flooring is. A no-wax coating is made from urethane or vinyl. It's the most affordable option, but it is the least durable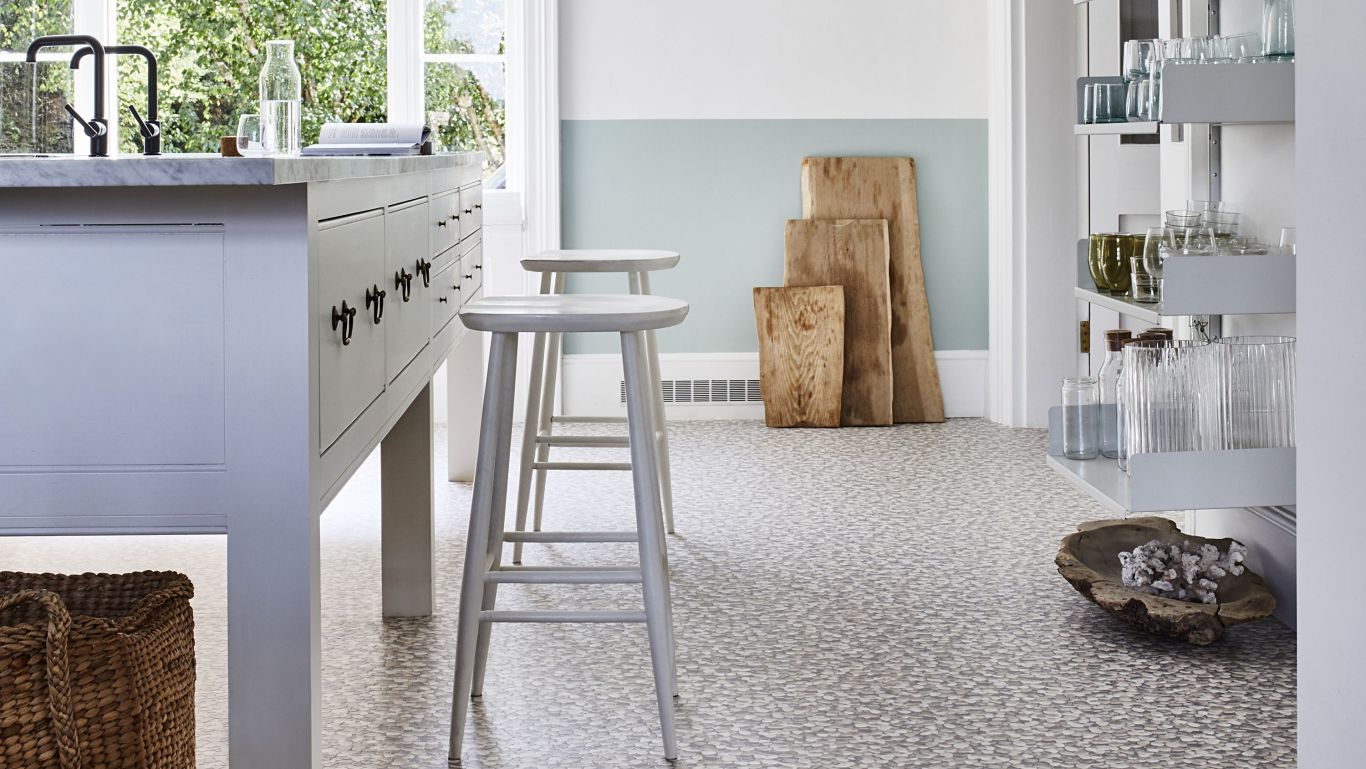 How to choose and lay vinyl flooring
Advances in technology and printing mean that vinyl flooring can now compete with other kinds of flooring, including natural materials, such as solid wood, real stone and ceramic and porcelain tiles, in terms of appearance and texture. But what makes  vinyl flooring most popular is its long lasting durability, scratch resistance and easiness to clean.
HOW MUCH DOES VINYL FLOORING COST?
On average, vinyl flooring costs between £10 per m² and £25 per m². It is possible to spend more on vinyl flooring if you go for a bespoke option, but this depends on your own specifications, the quality of the material and the detail you require.
HOW MUCH VINYL FLOORING DO YOU NEED?
How much vinyl you need depends on the size of the room you are flooring, and the format of the tiles you are choosing. Measure the length and width of the room and then multiply them
HOW TO FIT VINYL FLOORING
Fitting vinyl flooring depends on the type of vinyl and the skill required: if you are laying a single sheet in a large room, then one wrong cut can be an expensive mistake. Some products require adhesives for installation, while others come with a peel-off sticky backing or click together like laminate boards.
WHERE TO LAY VINYL FLOORING?
Due to vinyl's durability and water resistance, it can be laid in virtually any room of the house, including kitchens and bathrooms, although it is not suitable for wet rooms. In its sheet form, vinyl is particularly good for busy family bathrooms as it can be fitted seamlessly, but make sure that the design you choose is slip resistant.
VINYL PLANK FLOORING BUYING GUIDE
Okay, so obviously vinyl planks are the hottest flooring on the market right now. No really, they are. Many people are ripping up their carpet and putting down luxury vinyl planks for a lovely wood look in their home. Nowadays you can get a wood-look flooring without the expense and maintenance of actual hardwood. Let's be honest, if you have a family, kids, and a pet, you don't want hardwood. It'll be roughed up in no time under all that stress. That's where vinyl planks come in
What is Vinyl Plank Flooring?
There are so many types of vinyl plank flooring, that this question becomes a little difficult to answer. After all, you have peel and stick vinyl planks, rigid core, luxury vinyl planks, and waterproof vinyl planks.
Vinyl Plank Flooring Thickness
Why does plank thickness matter? Well, because the thicker the plank, the sturdier it is. Thicker planks are denser and more substantial beneath your feet. A thicker plank can also cover up a less-than-stellar subfloor
Vinyl Plank Flooring Wear Layer
Why is the wear layer important? Well, it's what protects your vinyl flooring from surface scratches and stains. It's the second half of the durability equation: thick vinyl + thick wear layer = higher quality.
Types of Vinyl Plank Flooring
Here I want to cover three big categories of vinyl plank flooring. Yes, there are three. Your choices are indeed vast and scary. Hopefully not too scary after I narrow this down for you. But probably still vast, which is okay because choices are a good thing! Anyway, there are three main types of vinyl plank flooring: luxury vinyl planks, waterproof vinyl planks, and rigid core vinyl planks.