Vinyl Flooring Pros & Cons
Vinyl floors are a popular option among homeowners, particularly in kitchen and bathroom applications. A synthetic cousin of linoleum, vinyl flooring is water-and stain-resistant, versatile, and provides good durability for the cost. Thanks to a number of advances over the years, today's vinyl floors are attractive and economical.
Types of Vinyl Flooring
There are two types of vinyl flooring: sheet flooring, in which the flooring material is laid down in sheets 6 or 12 feet wide, and tile flooring, which uses tiles of 9″x9″ or 12″x12″. While sheet flooring is more water resistant and is easier to install, many homeowners prefer vinyl tile, which replicates the look of a ceramic tile floor at a more affordable cost.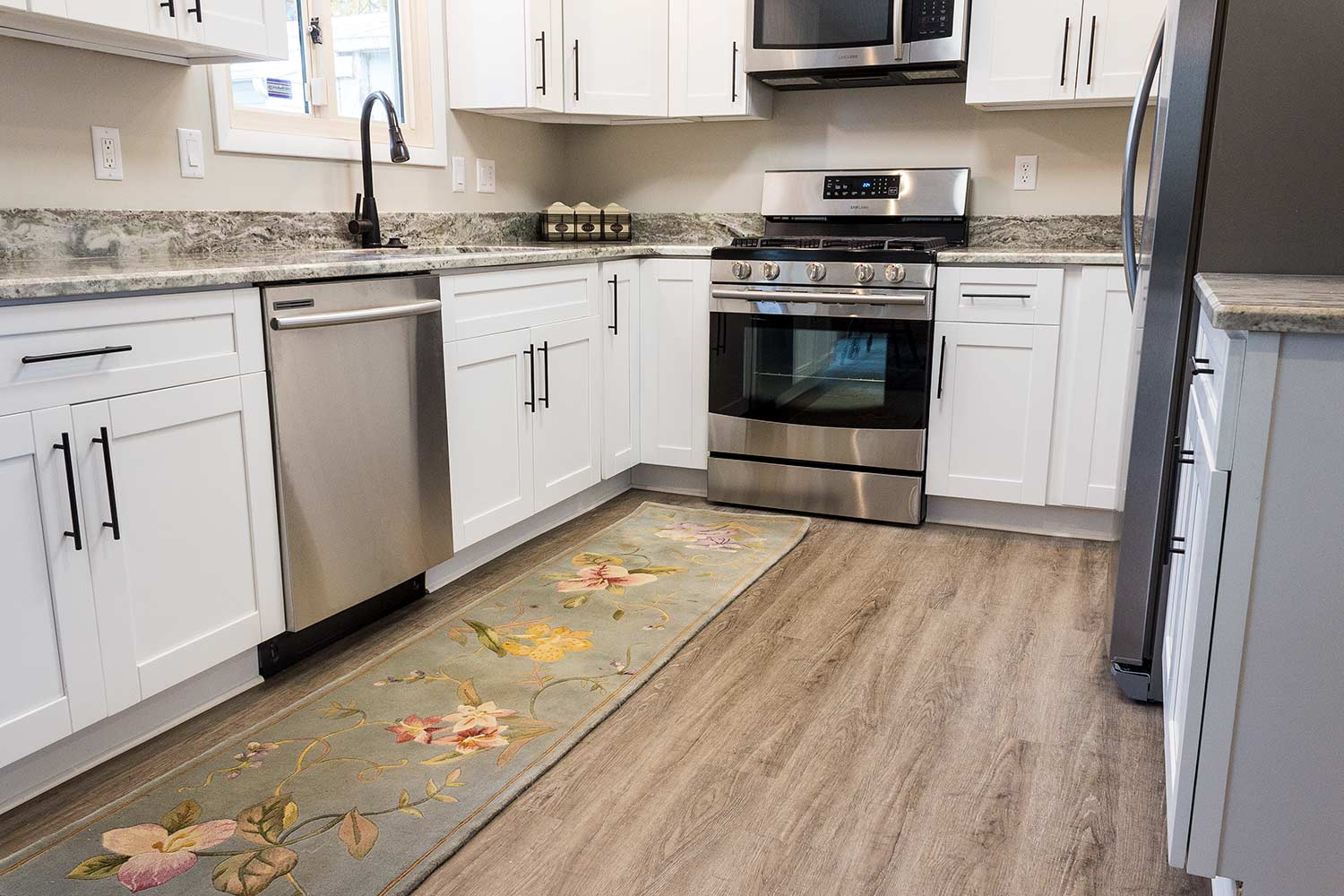 Types of Resilient Vinyl Flooring
There are several categories of vinyl flooring, and while all are grouped under the label "resilient," they have very different methods of installation and some different merits.
Resilient sheet vinyl: This is the most common form, consisting of a thin flexible sheets of vinyl bonded with a printed design and transparent wear layer. Sheet vinyl comes in 6- or 12-foot wide rolls, which means that the flooring can be laid with very few seams. This makes it the best (and cheapest) form of vinyl for wet locations, such as bathrooms. Sheet vinyl is normally installed with a glue-down bond, although there are some forms that are installed with just a perimeter bond.
Resilient vinyl tiles: This product is largely the same as sheet vinyl, except it is sold in boxes of square pieces, which are either glued down with troweled-on adhesive or by a pre-applied adhesive exposed when a peel-off backing is removed.
Luxury vinyl: This is quite a different material, a thicker, semi-rigid form of flooring that is manufactured in either long planks (known as LVP, or luxury vinyl planks) or tiles (known as LVT, or luxury vinyl tiles). Marketed as rigid-core vinyl by some manufacturers, these products are made with relatively thick layers that give the flooring some rigidity. Either way, luxury vinyl tiles or planks are usually floating floors that snap together at the edges and rest over an underlayment with no glue-down bond. Of all the forms of vinyl flooring, this is the most prestigious, and in the right application, it can actually add real estate value to a home. The plank forms generally are manufactured to resemble wood, while the tile forms are made to resemble ceramic or stone tile.
The Pros of Vinyl Flooring
The biggest advantage of vinyl plank flooring is the fact that it is 100% water resistant. This means surface water and spills won't affect the flooring. This makes it the ideal flooring solution for spaces such as basements, kitchens, bathrooms, restaurants and cafes. It is a great option for those with pets that worry about accidents.
In addition, vinyl plank flooring is very durable with commercial grade wear layers that can withstand heavy traffic. Larger commercial spaces can benefit from a glue down vinyl installation.
Many businesses and households love that vinyl is durable and easy to maintain. Regular sweeping and weekly mopping is all you need to keep your floors looking great.
With advances in vinyl plank flooring, you can find vinyl floors with rigid core construction, making them more dimensionally stable and sturdy. In today's market, you have many options when it comes to vinyl flooring. You can find vinyl plank flooring with attached underlayment, thicknesses up to 8mm or more and hand scraped textures.
Vinyl flooring can be installed on nearly any subfloor, with the thicker floors being forgiving to imperfect subfloors. Luxury vinyl plank flooring has a DIY installation with either a click lock, glue down or loose lay installation method.
The affordability, durability and appearance makes vinyl plank flooring a great option for busy spaces without the price tag of real wood or tile!
Vinyl Flooring Cons
Surface vulnerability. The spongy soft feel of vinyl can also make the material more susceptible to cuts and gouges from sharp objects like heavy knives, meat cleavers and so forth. Obviously, this is mostly a concern in a kitchen environment and mainly where single-sheet vinyl is installed—damaged individual tiles can usually be removed and replaced individually. Where heavy furniture is placed on vinyl, it's also good preventive medicine to place furniture pads under the feet.
Sub-floor issues. It's a good news/bad news situation: The good news is that vinyl can be installed over an intact, clean sub-floor without modifications or demolition. The bad news is, if the subfloor is less than optimal then repairs or improvements will be required to accommodate the adhesive needed to install vinyl. Also, the floor must be scrupulously free of any loose particles. Vinyl is thinner and more flexible than other types flooring. Even small particles beneath vinyl will result in noticeable bumps on the surface.
Indoor environmental concerns. Vinyl is a byproduct of petrochemicals and may emit vapors called volatile organic compounds (VOCs) into the indoor air, particularly when new. It should also be noted that VOCs are and always have been released by many building materials, including other flooring such as laminated wood and carpeting. Since 2010, the vinyl flooring industry has been actively working to reduce the content of volatile organic compounds. In addition, an industry certification process called FloorScore is now in effect to rate the potential VOC content of flooring products including vinyl. Consumers can look for the FloorScore certification to comparison shop among vinyl flooring manufacturers for the lowest VOC and other chemical content.
Marginal effect on home value. While upgrading a home with certain types of high-end flooring such as exotic hardwood or imported ceramic tile may boost the resale price of the home, most types of vinyl flooring aren't a major contributor to higher home value. The exception might be today's more pricey luxury vinyl tile (LVT) that provides striking enhancement to indoor decor and may ratchet up the market value of a residence.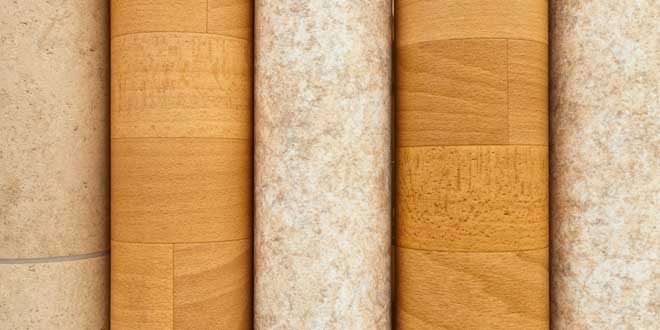 To clean vinyl
steer clear of abrasive scrubs, scouring pads, detergents, waxes, solvents, and ammonia—all agents that can dull and damage the surface. Instead, dry mop or vacuum to remove surface dust and dirt (avoid the "beater bar" vacuum attachment). Deep clean with a homemade solution of one cup of white vinegar mixed with a gallon of hot water, adding a few drops of mineral oil to amp shine, if desired. If using a commercial cleaner, be sure it's designed for vinyl floors.