A SIMPLE GUIDE TO COMMERCIAL ELECTRICAL WORK
Whether you're new to the commercial electric market or have previously worked with a commercial electrician, navigating the industry can be confusing at times. Finding an experienced commercial electrician is a priority, so you and your facility can reap the benefits. From conducting an energy audit and minimizing electrical costs to learning how to identify causes and prevent electrical fires, having guidance from a commercial electrician is worthwhile.
CHOOSING AN AREA COMMERCIAL ELECTRICIAN
So, you need a commercial electrician for your facility? There are many things to consider as the industry is vast and Electricians range in levels of experience.  An excellent way to start your search is by completing a simple Google search to familiarize yourself with commercial electricians in your area. From there, it can seem like a lengthy process, but finding a quality commercial electrician that you trust is a top priority.
REVIEWS, REFERENCES, AND RECOMMENDATIONS
If you're ready to choose a commercial electrician for your establishment, you will be surprised how many recommendations you can get from family, friends, and coworkers. While it may seem easy to start your search from scratch, you can save a lot of time by utilizing the resources surrounding you. Whether you own a boutique, office space, or apartment complex, every property owner looks for a quality electrician at some point in their ownership. Your local hardware and electrical supply stores will also have an ongoing database of area professionals that may be perfect for your electrical needs.
Along with gathering recommendations from those surrounding you, it's also essential to look into your potential candidates' reviews and references. Visit the commercial electrical company's website so you can get an idea of past project experience and any focus areas. Read past client reviews and testimonials as this will give you an idea of how well the company performs, their work ethic, and if past clients have enjoyed working with them. Asking the commercial electrician candidates for references is another great way to speak to past clients and get an idea of project experience.
ARE THEY EXPERIENCED?
It's recommended that you interview every candidate, so you can gather an overview of their credentials, experience, and any other noteworthy career movements. You must choose an electrician with correct licensing, insurance, and bonding as this protects not only you, but also them. Aside from their accreditation and experience, you must spend time deciding and evaluate whether you think your candidates are equipped to meet the many demands of the commercial industry, such as:
Around-the-clock availability
Design creation
Completing installations
Conducting repairs
Executing and addressing routine maintenance needs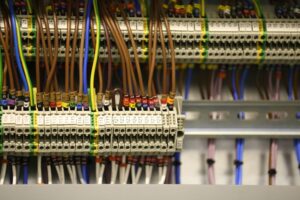 Basic Electrical Maintenance
This course on basic electrical maintenance will equip you with the knowledge you need to safely identify and troubleshoot common and standard electrical systems and components found in commercial buildings. Whether you're responsible for performing the maintenance, supervising maintenance personnel, or planning projects in this area, this information is critical for you to be aware of, and will allow you to lead and guide others in your organization.
Knowledge of the typical electrical components covered in this course will be critical for your personal safety, and the safety of others that you're working around. Improper actions or conditions encountered with these devices and components could result in serious unsafe conditions, including fire hazards, electrical shock, and even death. This course will show you how to avoid these conditions while operating and resetting GFCI receptacles and while replacing ballasts, light switches, and electrical receptacles.
What is a GFCI?
A Ground Fault Circuit Interrupter, or GFCI, is a safety device used in electric circuits. GFCIs are built into electrical outlets and they work by comparing the incoming current on the hot side with the outgoing current on the neutral side. They should be equal. GFCIs protect people from electric shock injuries and also protect the outlets, wiring, devices, and appliances from damage caused by overheating and fires due to ground faults and shorts.
What is an AFCI?
Arc Fault Circuit Interrupter, or AFCIs, also sometimes called Arc Fault Detection Devices, or AFDDs, are designed to detect and protect against potentially dangerous arc faults in addition to short circuits and overloads.
What are the three types of wires used in building electrical circuits?
The three types of wires used in building electrical circuits are hot, neutral, and ground. Hot wires (usually black) deliver current, while neutral wires (usually white or gray) create the current's return path. Ground wires (green or bare copper) prevent electrical fires and socks by providing an alternate safe path for the current.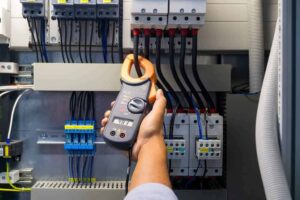 Electrical Construction and Maintenance
provides innovative electrical construction and maintenance solutions you can rely on, including wire & cable management, motor lead connecting, insulating & sealing, locating & marking, splicing/connecting/grounding, cable repair, fire retarding, arc proofing, and safety & personal protection.
Build and repair electrical systems with confidence.
Protect valuable assets
Take advantage of the latest technologies
Be confident in long-term performance
Commercial Electrical Services – Everything You Need to Know
It's no secret that the majority of modern workplaces are reliant on electricity. When you consider the electrical tools required for a commercial setting, the needs are often far more complex than those in a residential building and a commercial electrician becomes a vital component of your business.
Usually, a commercial electrician can cover a full range of services; from the power tools of your trade, to inter-connectivity, and keeping your premises secure and more. Not only will this help ensure your electrical services and systems are fully operational and compliant with health and safety law, but it can also contribute to a positive environment for both workers and any visitors.
A commercial electrician has the knowledge, expertise and tools to support a full range of businesses whether you are developing, refurbing or maintaining the current high standards of your workspace. So, if you're wondering how a commercial electrician can help you and your business, our list below will give you some ideas.
A Beginner's Guide to Commercial Electrical Services
Health and Safety Compliance
As a business owner, you are responsible for the safety of your employees and any visitors to the building. Whether it is installation or inspection of tools, a commercial electrician will have it covered when it comes to making sure all your electrical goods meet Health and Safety laws and legislations.
Services can enable your company to comply with the following legislation;
Management of Health & Safety at Work Regulations 1999
Provision and Use of Work Equipment Regulations 1998
Electricity at Work Regulations 1989
Security
A large area of expertise for commercial electricians is a building's security and fire systems. provide bespoke intruder alarm systems to commercial, business and industrial premises covering a variety of organisations as well as all important fire security systems. Our electricians can not only provide the equipment to ensure your building is secure but can also help your business to stay proactive rather than reactive to potential electrical fire risks.
Cost-effective Care and Maintenance
Electrical preventative maintenance can be one of the most cost-effective ways to protect your electrical tools against sudden power or equipment failure LIVE services deliver state of the art testing utilising ultrasonic and infrared technology to help identify any potential failure before it happens. A proactive approach combined with proper maintenance of electrical services and systems also has the added bonus of extending the life of your equipment, saving you time and money in the future
Commercial Electrician FAQ's
What type of jobs would a professional & qualified Commercial Electrician be involved in?
Commercial Office & Industrial Installations
Remedial Specification & Installation
Maintenance & Repairs
Interior and Exterior Lighting Installations
Interior and Exterior Electrical Wiring
Power and Distribution Installation
Fire Alarm and Security Systems
Periodic Inspection and Test Services
Electric heating & Hot Water heating specialists
Energy consumption advice & recommendations
Issue Finding
Immersion Heaters
Water Heaters
Electric Heaters/Radiators
Commercial Kitchen Electrical Installation, Repair & Maintenance
Refrigeration Systems
Air Conditioning Systems
Towel Rails
Extractor Fans
Electric Commercial Kitchens & Cooker Points
Lighting & Power Installations
Fuseboard/Consumer Units
Partial or Complete Rewiring
Electrical Condition Reporting
Pat Testing
Electrical installer
Installation of electrical equipment
Earth Bonding Testing
What is the difference between a Commercial Electrician and a Domestic Electrical Installer?
Commercial Electricians and electrical installer's work in offices, retail units, factories, commercial buildings and sites installing electrical systems for power outlets, lighting and wiring. They will have the knowledge of wiring to support large properties and systems compared to a Domestic Electrician who will have the experience of working in smaller residential properties.
What qualifications should an Electrician have?
A commercial Electrician will have an industry recognised level 3 qualification, for example, a level 3 diploma in electrotechnical services. Most people qualify as an electrician through an apprenticeship as they need both classroom training and work experience to gain the skills they need and it can take anything from two to four years to become fully qualified.
What skills should an Electrician have in addition to their industry qualifications?
As well as their technical skills and qualifications, a Commercial Electrician should also have:
The ability to understand electrical plans, designs & blueprints
The ability to conduct a visual inspection and estimate the size of the job
Excellent attention to detail
Good communication skills
Excellent problem-solving skills
Be able to work as part of a team, working on large scale projects and builds with changing needs, plans and timescales
The ability to be able to deal with complex and demanding on and off-site situations