The paint colors that can boost your home's value
If you're planning to list your home on the market, one of the easiest and most cost-effective ways to increase its value is also one of the simplest: paint.
Interior paint – select warm neutral colors
Your home is more likely to sell with a fresh coat of paint, which is the very first thing buyers see. Neutral colors make it easier for potential buyers to imagine themselves living there because the paint goes with just about anything. Many buyers also don't want to shell out extra cash to paint after closing. The three experts we spoke with all recommended warm neutral colors. Norris suggests using beiges, tans, golds, grays and "greige"—a blend of gray and beige. Avoid white, which is too stark.
Paint types matter, too
Paint holds more than just color. Different finishes and sheens can impact how the paint color pops, how easy a wall is to clean, and other factors. following when it comes to choosing specific types of paint:
Stick to flat or eggshell sheens on broad walls, as they will not show off the nail pops and unevenness in walls as much as a satin will.
Satins and semi-gloss coats are better for durability and stain resistance.
Use semi-glosses on the trim and doors to make it easier to clean dust and handprints.
Price can be a good indicator of quality level. Spend a few extra dollars on a high-quality paint, or at least something mid-tier. With a cheaper paint, you might have to use more coats, and it won't go on as smooth.
If you're painting yourself, purchase high-quality brushes and rollers for an even, flawless finish.
Use eggshell or semi-gloss in the bathrooms where there might be moisture, advises Norris. And don't forget to paint the trim and ceiling, not just the walls.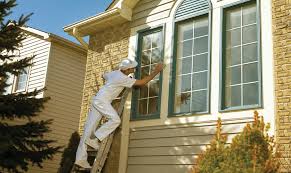 Exterior paint – no more than three colors
The exterior of your home is the first thing potential buyers see. Some homes, like those made of brick, won't require fresh paint. But exteriors like stucco or siding might. There should be no more than three colors on the exterior of the house, says Norris. She recommends following the 60-30-10 percentage rule: 60 percent is the body of the home, like stucco or brick, 30 percent is the garage doors and trim. The final 10 percent is the front and shutters, with just a pop of color.
That you don't want to use too many colors on the exterior. A variety of colors can be distracting and make the house appear choppy or smaller—distracting the buyer's eye. One of her favorite color schemes is a neutral gray for the body, white for the trim and garages and a front door with a pop of color featuring brown or blue.
A full exterior paint job is best left to the pros, since many homeowners lack the necessary equipment, like ladders, scaffolding, and spray tools.
"Homeowners can definitely freshen up their trim around windows or repaint a garage, or front door, but the body of the house should be done professionally if it was painted before,"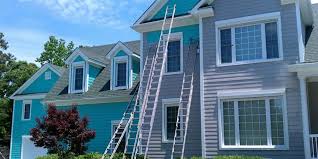 Break out the paint
A quick, inexpensive way to increase the value of your house is to paint. A fresh coat of paint can make rooms look like new. But don't get too wild when choosing paint colors. Your best bet is to stick to neutral shades because they will appeal to a greater number of potential buyers. However, not just any neutral shade will do. A Zillow study found that it's best to steer away from colors such as dark brown and terracotta when it comes to interior paint colors. If you do choose to use these colors for the interior, your home's price might sell for $469 (when using dark brown) or $793 less (when using terracotta) than Zillow's price estimate. Homebuyers generally don't care for these colors.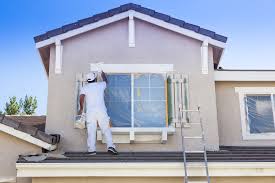 Don't Over-Improve
While you want to improve your property and increase the value, you also want to be cautious so that you do not over-improve your property. You don't want to spend an amount of money on a renovation where you will not see a return on your investment. For example, putting high-end Viking appliances in a home in a middle-class neighborhood would be an over-improvement.
Before you renovate, do some research on your area to find out how much the property will be worth after the renovations, also known as the After-Repair-Value or ARV. Once you accurately gauge this new value, you can deduct the price you paid for the home and what you are left with is the maximum price you should spend for the renovation and any soft costs such as financing charges, closing costs, and holding costs if the property will sit vacant while the renovations occur.
Low-Cost Tips
There are simple things any property owner can do which can boost the appeal of your property. While these simple tips may not add tens of thousands of dollars to your property's value, without doing them, you may not be able to realize the full potential value of your property. These fixes can be done without having to hire any outside help. Although they are low cost, they can make a huge difference in the way your property looks.
Clean: Making sure your property is clean will have an immediate return on the value of your property. This includes both the outside and the inside. Garbage, dirt, and strange odors are not attractive features.
Paint: You will be amazed by the difference a fresh coat of paint can make. It can revive and brighten a tired space. Neutral colors are universally appealing.
Add Curb Appeal: A few strategically placed plants, a new mailbox, outdoor lights or shutters can make your property more inviting. Higher cost and potentially higher return projects include new siding, new walkways or driveways, and adding a deck.
Change Fixtures: Change out a doorknob, light switch cover, cabinet handle or even a light fixture. It's a simple method to breathe new life into a space.
Stage the Property: De-cluttering a space and giving each room a function can add value because many buyers lack imagination. Proper placement of furniture, the size of furniture, and the amount of furniture are also crucial.