Tips for Choosing Interior Paint Colors
Choosing Interior Paint Colors Is Easier Than You Think
The easiest way to choose the best interior paint colors is to start with the colors you love. When you start with the colors you love, you are not bound by the traditional color schemes for a particular decorating style. Using your favorite color as your base color, you can use it to create a color scheme around it. Your favorite colors can be the perfect inspiration for your new color palette for the whole room. Here's how to find out what your favorite color means, and how you can decorate with it.
Find Paint Color Inspiration
Magazines and catalogs have always been the staple of decorating inspiration. You have access to thousands of pages of inspiration on the internet. Retailer sites can be inspiring with their room vignettes, and paint company sites can also show you ways to use color in your home. Social media sites such as Pinterest and Instagram offer color inspiration that is refreshed in real-time. Pinterest is great for creating inspiration boards for your favorite ideas, so you can keep all your ideas in one spot.
Use Color Theory to Create a Color Scheme
You don't have to study color theory to get great ideas from a little color wheel. These inexpensive color tools can generate color scheme ideas quickly. With a turn of the wheel, you can see how colors might relate to each other and learn the basics of color theory. While you probably won't be painting your home in the exact colors you see on the wheel, you can choose shades of those colors at your favorite paint store.
Get Creative With Neutral Paint Colors
Just because you choose neutral paint colors doesn't mean they have to be laid-back. You can rev up your neutral color palette by being creative with how the colors are used. A striped wall in neutral colors adds tons of style but still keeps the room looking relaxed. Neutral wall color with a pastel ceiling is a sneaky way to add color without losing the soothing vibe of the space
Pull Your Paint Color From a Print
One of the easiest ways to choose interior paint colors is to start with a print fabric. Throw pillows, bedding, and even table linens can provide you with paint color ideas. If you're creating an accent wall, look to the boldest colors in the print. If you would like to choose a paint color that is more subtle or for a larger space, look at the color in the small details of your print fabric. Take a fabric swatch to the paint store so you can choose paint strips to view at home.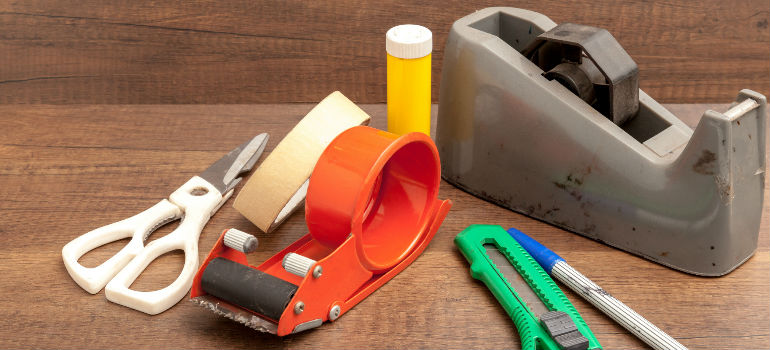 Interior Painting
Choosing paint colors
Just as with exterior painting, picking the right color scheme for interior spaces requires a certain amount of imagination and creativity. Simply thinking about what color would look best on a wall isn't enough to ensure a positive paint job. Virtually any color will look good on a surface as long as it is applied correctly, but choosing the right color involves looking at an interior space with a very critical eye
The floor and ceiling surfaces cannot be ignored, as they are crucial elements of color combination. Most ceilings are traditionally painted white for a number of reasons — particularly for their ability to keep rooms looking bright and to avoid taking attention away from the walls. Lighter ceiling colors can also help to make a room appear larger and more open.
Deviating from white ceilings is a great way to change the overall appearance of a house, but since darkening a ceiling can steal some of the light and visually shorten the height of the room. Ceiling colors should offset and complement the walls and the floor instead of calling attention above.
Black and gray
While black is usually associated with somberness and malignity, it can also represent sophistication, reverence and physical attraction. Interior designers have traditionally shunned black paint, but homeowners increasingly choose it for trim and accents that are meant to be dramatic and striking. Black is the perfect match and contrast for white, and the amount used can range from trim areas to an accent wall. With the right furniture and décor, black is ideal for living rooms, bedrooms and ultra-modern kitchens.
Brown
Brown denotes a personality that is earthy, realistic and trustworthy. This classic earth tone can be applied to living and work areas alike, as it evokes a feeling of being well-rounded and connected with nature. Terracotta and dark mustard brown combinations are perfect for Latin American and Santa Fe-style décor. Brown hues are great for interior spaces that get a lot of sunlight. Lighter shades of brown, such as beige and taupe, are neutral colors that particularly work well in homes that are being shown to potential buyers.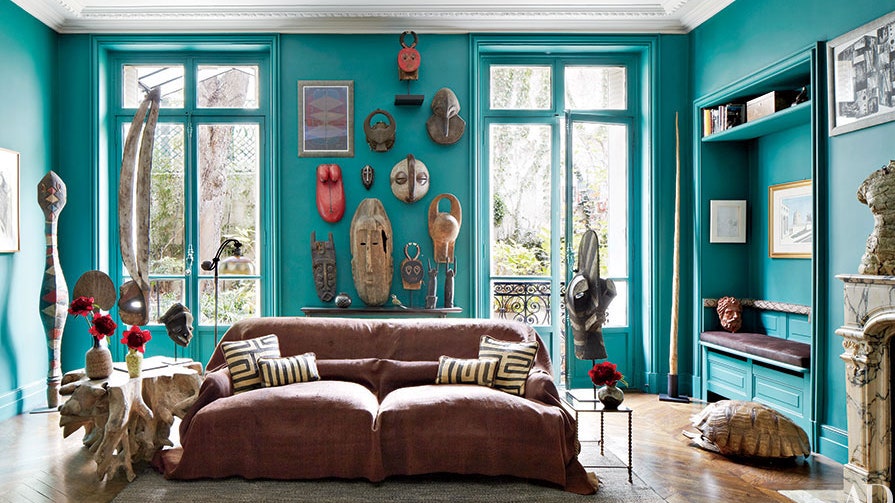 Painting & Decorating KNOW-HOW: The Novice Guide to Paint like a PRO
If the walls in your living room are coloured in the incredibly dull hues of white or beige, then you have a problem that affects millions of people worldwide. But before you grab the nearest brush and give it your best shot, ask yourself this – do you really know what you're doing?
If your answer is anywhere between "No" and "Maybe", then we strongly encourage you to check out our detailed list of painting and decorating tips. Who knows, when you're done reading this, you might actually enjoy the whole process as much as you would enjoy the final result!
Foreword: There's More to Painting Than You May Think!
It's tempting to approach a painting job as if it is child's play. Unfortunately this is not the case, otherwise, the countless professional painters and decorators across the globe would not be there in the first place, would they? Truth is, there are one too many things that can go awry with your interior redecoration, especially if hastily put together
Set aside a prep day. Let's begin by stating the obvious – you cannot do everything all at once, so arm yourself with a bit of patience and devote an entire day or so to various painting preparation tasks before moving on to the project itself.
Free up some space. All those wall shelves, paintings, drawers, wardrobes, and lamps will only slow you down. If you cannot move everything into an adjacent room, then consider placing your furnishings in the middle of the room and hiding them under a generous amount of drop cloth. Don't forget to also tape the cloth in place and add an extra cover on top to protect your belongings from splashes.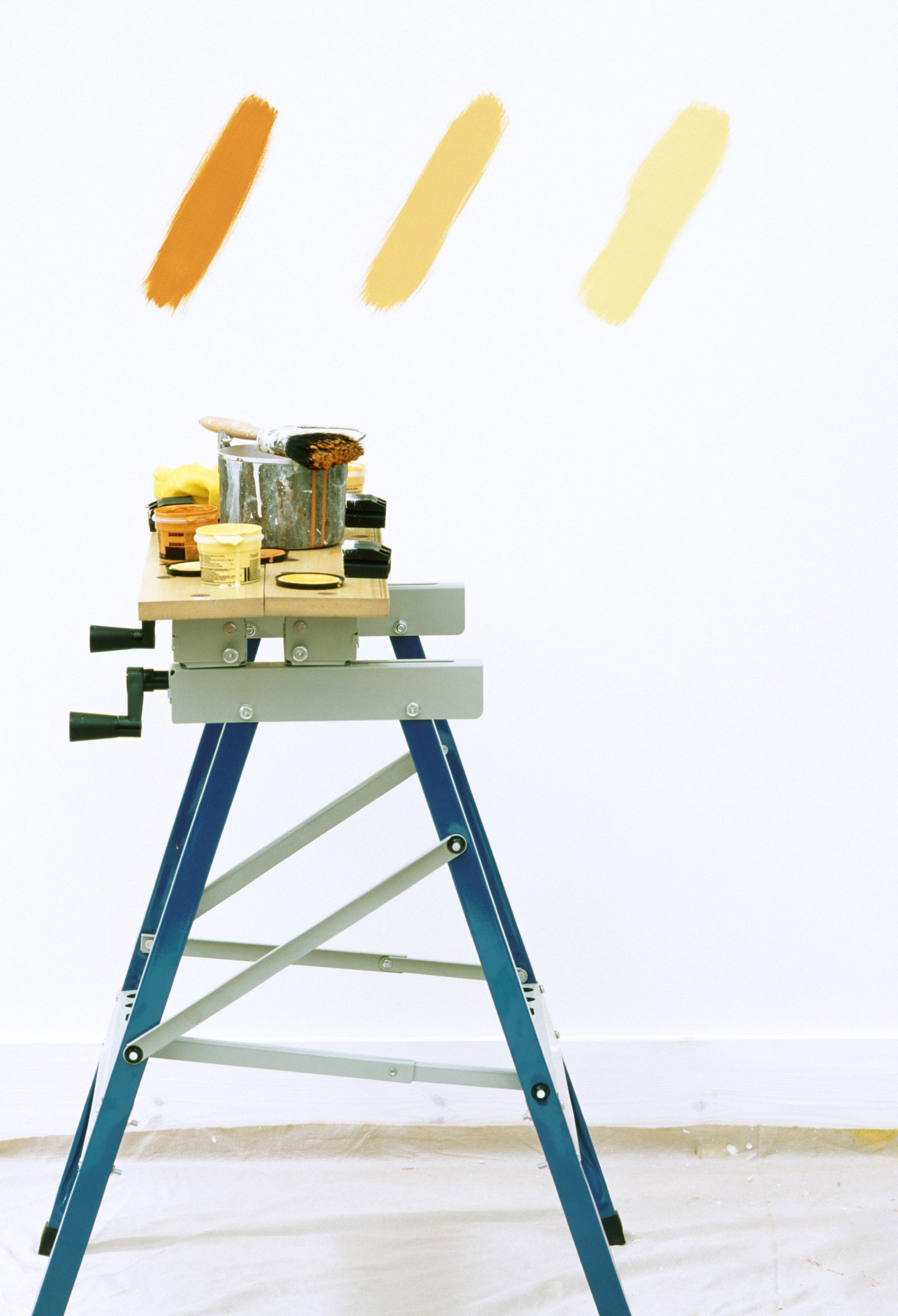 How to Paint a Room: Steps to Painting Walls Like a DIY Pro
Painting a room is a popular project for beginning DIYers and veteran renovators alike. After all, it's pretty painless, relatively inexpensive, and should something go horribly wrong, easy to fix. But before you grab your roller and get started, it's important to have a plan of attack. Read on to learn how to paint a room and see the steps you'll need to follow to make sure your project is a success
Plan your approach
Start by thinking about how you want the finished project to look and remember that you're not limited to four walls in the same color. Consider painting an accent wall in a bold hue or highlighting moldings in a contrasting shade or finish. And don't forget to look up and see whether the ceiling could use a refresh as well.
Choose your color
Browsing through fan decks and paint chips can be overwhelming. Start by figuring out the general color characteristics: Do you want a warm or cool shade? A neutral or a saturated shade? If you have existing furniture or art, you'll also want to consider how the shade will compliment them. Once you have a sense of what you're looking for, pick a few shades and get samples. Test the shades to see how they look in the room at different times of day.
Pick out your tools and materials
Every project is unique and you may need different tools depending on the paint you choose and the condition of your walls, but there are a few must-haves.
Determine how much paint you'll need
Whether you're painting a powder room or the exterior of your house, the general rule of thumb is one gallon per 400 square feet, says Carl Minchew, vice president of color innovation and design at Benjamin Moore. But that's just a rough guideline: To get a more precise number, which you'll definitely want for large projects, use a paint calculator like the ones provided by Benjamin Moore or Pratt & Lambert; they take into account window and door measurements. (And both assume two coats of paint per project.)
How To Paint A Room: Tips & Tricks for Beginners
A Beginners Guide
It's the summer holidays, and we all know what that means – time to redecorate while it's warm, breezy and dry, and get started on that painting job that's been looming all year. To help you in completing this feat, we've put together this ultimate guide to show all you painting beginners how to paint a room.
But we're here to show you that interior painting doesn't have to be so much of a pain, it can be quite simple if you've got the right tools and know how – no really!
How to Paint a Room: Picking Paint
Now, this is an essential step in interior painting – as you could probably have worked out. It's not exactly how to paint a room, but the equipment is just as important as the actual painting.  The most important thing to do is to carefully choose a colour, and it may seem like an arduous process, but it's worth it and very important.
Gather Paint Testers
Gather as many paint testers that take your fancy, and take them home. It's important to remember how many factors change the appearance of a colour that could affect your decision – from lighting to finishes to even the colour when dried!
Try the Testers in the Light
You should place the testers against each wall, in natural light, to see how the paint colour changes in differing daylight in the room you're painting. Paint colours will react differently when in sunlight against artificial light, so factor this in when painting a north facing room versus a more sunlit one