Bathroom Electrical Wiring – Issues and Safety Precautions
Bathroom Electrical Wiring: Issues and Safety Precautions
According to the Consumer Product Safety Commission, tens of thousands of fires happen all over the United States every year that are caused by electrical issues. Besides the millions of property damage that are incurred, there is also the unfortunate loss of life that happens in hundreds of these kinds of cases. There are also hundreds of consumer products that can cause electrocution and death (especially with bathroom electrical wiring), so it is best that the appropriate safety precautions are done in order to prevent any sort of unfortunate incident to happen.
A Volatile and Dangerous Mix
It is a well known fact that water and electricity just do not mix. It is a very deadly combination. So you can just imagine the kinds of dangers you have with bathroom electrical wiring systems. Of course, no one can eliminate entirely the need for bathroom electrical wiring systems – with outlets for dryers, heaters, lights, and all other electrical appliances you use in the bathroom, all you can really do is to observe the proper safety precautions and steps to make sure that the electrical system in your bathroom is safe for you and all who use the bathroom.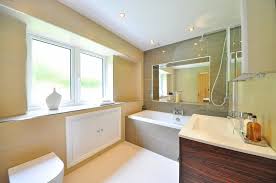 Some Safety Tips
Use moisture-splash proof switches.
Moisture-splash proof switches are designed to prevent water from entering the switch and coming into contact with the wires inside.
Ensure all receptacles are GFCI-protected.
GFCI outlets help reduce the risk of shock hazards in damp areas and have already saved thousands of lives. The National Electric Code currently mandates the installation of GFCI outlets in the bathrooms, crawl spaces, and kitchens among other areas in the house for protection.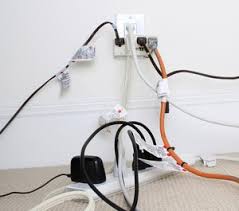 Position the Receptacles Properly
You shouldn't just position the electrical outlets anywhere you please. Some of the guidelines to follow include installing a receptacle:
Within three feet of the outside of each basin (bath, lavatory, sink or any bowl of water)
On a wall or partition adjacent to the applicable basin
Behind or beside, but neither across or over a sink
Each of these guidelines serves specific purposes. For example, installing a receptacle over a sink can easily lead to the code hanging into the sink and causing electrocution.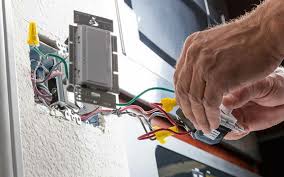 Distribute the Circuits Properly
Lastly, you should distribute the different circuits in your bathroom and keep them isolated. For example, the light circuits should be different from the fan circuits. The objective here is to ensure that a fault in one circuit does not interfere with the operation of another circuit. That way, your light stays on even if the fan is not working, and you get enough light to rectify the fault. All these are measures to keep bathroom users safe. If you can't handle them all, then you are not cut out for bathroom electrical wiring. In that case, you should let a professional home electrician contractor handle the work.
Install Exhaust Fans
It is not just the bath water that you should worry about; bathrooms tend to accumulate high levels of humidity and moisture. These too can cause problems with your electrical wiring. The countermeasure here is to install exhaust ceiling fans and prevent accumulation of steam or moisture.
Bathroom Electrical Safety is Paramount
Water is essential to human health and hygiene. Unfortunately, it's also a great conductor of electricity. That means that you could receive a severe shock when you are standing in water, and even wet skin allows electricity an easier path to pass into your body. Electrical shocks can cause burns, heart arrhythmia, nervous system damage and death, and bad wiring or improper grounding can also start a fire. That's why safety in your bathroom electrical work should be one of your primary concerns. Follow these tips to avoid an emergency:
Make sure your electrical sockets are located a safe distance away from the shower. Cover the outlets when they aren't in use.
All the outlets in the bathroom should be equipped with ground fault circuit interrupters, which can sense when an electric current is improperly grounding and automatically shut down the power, potentially saving a person holding a hair dryer in the shower from a nasty shock.
On that note, never use electrical devices in the bathroom when you are standing in or otherwise in contact with standing water. This should be common sense, but sometimes people forget or get careless.
Any exposed or frayed wiring in the bathroom should be addressed and repaired immediately.
If you use an electric heater in your bathroom, it should be hardwired into a circuit, and preferably installed into the wall or ceiling.
The less wiring you have in your bathroom, the better, so recessed or enclosed lights are better than light bulbs or fixtures that hang freely from the walls or ceilings.
Pull strings for your lights are safer than switches because they prevent wet hands from getting anywhere near the circuit.
Electrical work must be performed by a licensed professional so you have assurances that the job is done well, and recourse if it isn't.