What To Expect & What Not To Do When Movers Pack For You
Packers are generally highly experienced employees of a moving company. They have years of experience in packing household goods; they move very quickly and efficiently; they are tasked to pack tightly and carefully; and their goal is to pack each carton to capacity without either over packing it (making it too heavy) or under packing it (more paper than needed). They have been trained to meet high industry standards and, in most cases, can make packing look easier than it is. When packers enter your home, they will walk with you and listen to any concerns you may have for special care items. Once they have a good understanding of what needs to be done, they will move to pack your home quickly.
What will they do?
The first step is to protect your home. They will normally start by protecting your floors. Next they will bring packing material, cartons, tape and paper inside your home. They then will most often split into different rooms of your home. One person may work in your kitchen while another may begin in one of your bedrooms. The packers will not mark individual items on the cartons; they will only identify the room of the house the carton comes from. If you want to notate items on a carton for your own convenience, that's something you'll need to do. At the end of a full day, two professional packers should be able to effectively pack between 100-150 cartons.
Will my things be damaged?
Good packers have been trained to wrap and protect items by specific placement inside a box or carton. This does not mean that items are never broken, as many different circumstances can influence whether or not something ends up breaking, but damage is much less common when using a professional packer than when you pack yourself.
How do they pack so fast?
Packers do not have any sentimental attachment like you do to your items, so they are able to function in their roles much like a robot – very systematically. Emotions, memories and decisions on what goes and what stays is not something that concerns them so they can effectively complete their job in a much shorter period of time. It will be important that you have a clear idea of what is going and what is not going prior to packing day because, if not, it becomes virtually impossible for packers to adjust and it becomes a costly process to you if you are changing your mind on what to take and what to leave behind while packers are working in your home
Do I need really need to be there while packers are packing?
Simply, yes. You do need to be present for your packing. You should also make sure that children and pets are not in or around the packers as this can slow the job and create unsafe distractions. There are also often parts and pieces that will be lying loose while in the process of disassembly and packing. This could be considered hazardous to the safety of children and pets, so it's best to make sure they're occupied somewhere else.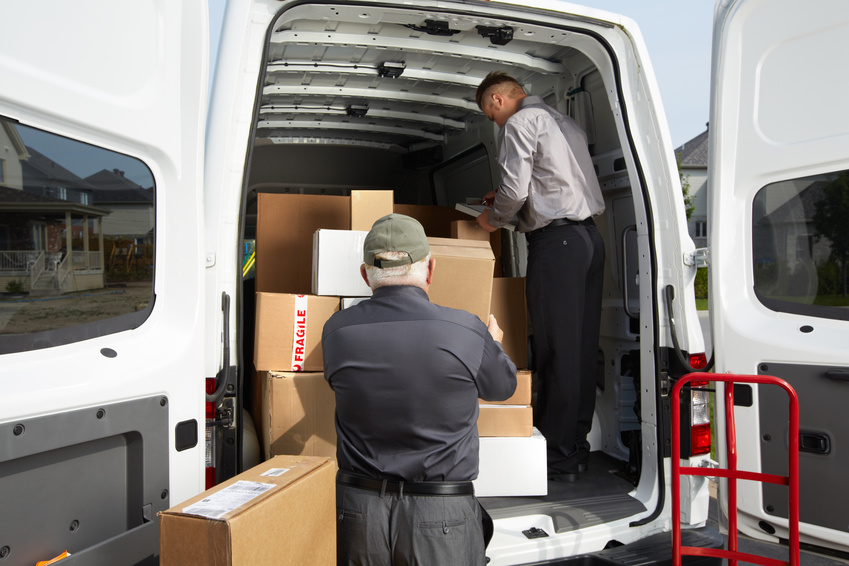 Safety Tips When Moving During COVID-19
first learned about coronavirus COVID-19, how it spread, and how it was already affecting the health of so many, it didn't take long before the way we lived our everyday lives changed drastically.
Many non-essential services have been forced to shut down, and we've learned that the best way to keep ourselves, our families, and our friends safe is to practice social distancing and strict cleanliness routines.
However, it all happened so quickly that many people had already closed on the sale of their homes, or purchased new homes, which isn't something that can easily be postponed or cancelled. And, sadly, we also know that with the uncertainty of jobs, income, and the economy, some will be forced to change their living situations in order to manage financially.
Do-It-Yourself Moving Options
The best way to ensure that your items are not being contaminated is to handle them yourself. If you're able to do all packing and loading yourself, then this is one of the safest and convenient moving options
Using a Moving Container
The biggest benefit to moving with a container, like a BigSteelBox, is that you're in complete control of your move. Only you have access to your container, you will be the only one packing and handing your items, and you keep the key.
Get a Self Service Moving Quote
Are you experiencing sticker shock for your move? Is your long-distance move causing you to lose sleep at night? Do you want to get full service move quality for truck rental pricing? Then you have come to the right place.
Whatever you are shipping, we can help. We can provide moving trucks for anything from a 1 bedroom apartment to a full house. We can also move your car with one of our large auto transporters while moving your furniture on a moving van. Our relocation coordinators can help coordinate your move to fit your busy schedule! Since you take care of the packing and loading, you get the best cross country moving service at the best price. Fill out our quick quote form and instantly get moving rates emailed to you to ultimately save time and money.
We find that customers often have similar questions or experiences. That makes this section of our website packed with good information for those that are looking to move or that are already using full service movers or self service movers.
You load, They drive, You Save. Find out more information about how people are renting space on moving vans and loading it themselves to save money.
Save money on your long-distance move by doing the loading and unloading yourself. Movingplace provides the truck, fuel, driver, and door-to-door transportation.
Simple Steps to Make Your Move Less Stressful
Last year more than 40,093,000 people, or 14.19 percent of the U.S. population, moved to a new home. Though it can be a fun and exciting time, moving can also be a lot of work. In fact, 75% of movers say that moving is somewhat, quite, or very stressful. Between organizing your belongings, packing boxes, and loading the moving truck, there are many aspects of moving that are overwhelming.
If you're one of the millions of Americans planning an upcoming move, you're probably starting to get a little anxious about the event. With the right resources and preparation, you can make your move stress-free and easy. The following seven tips provide helpful insights on everything from how to pack your boxes to packing a moving van.
One part of moving is in the preparation, meaning how well you pack and organize your belongings. First, it's important to note that you should wait to start packing until as late as possible so you don't have to dig through packed boxes.
As you start to pack, here are a few considerations to keep in mind to ensure you are packing in the most sensible manner.
Use the appropriate sized boxes. Heavy items, like books, should be packed in small boxes, while things like linens, pillows, and light weight times go in bigger boxes.
Load the boxes by putting the heavier items at the bottom and lighter items on top.
Don't leave empty spaces in boxes. Use clothing, towels, linens, or packing paper to prevent loose space unbalanced boxes.
Try not to pack items from different rooms together. Not only will it make packing easier, but you'll thank yourself when the time comes to unpack.
Label each box with the room in which it belongs and includes a description of the box's contents. You can also use numbers to label each box and keep an inventory in your moving notebook.
Label each side of the box. Lauri Williams of Casual Uncluttering LLC, says, "Always label all four sides and the top of the packing boxes. That way, no matter what side of the box you can see because of where it ends up, you'll know what's in the box. There were days I wished I could have labeled the bottom too."
Put packing paper around each of your dishes and wrap bundles of five or six in more paper. Always pack dishes on their sides – never flat – and be sure to use plenty of paper to pad the top and bottom of the boxes.
If you're moving valuable art, talk with your mover about special crating. Oil paints should never be wrapped in regular paper, but should be bubble wrapped and placed in a frame box.
A Perfect Solution for Small Moves
we know that every move is not the same. And sometimes, thinking "inside of the box" can save you time and money.
Obviously the size of the move will impact the services you're looking for. A small move will have different factors to contend with than a larger move. Still, the stakes of a smaller move may be as big as a move two or three times its size, so it's important to have a small move solution that meets your needs. This is where a quality small moving company can make all the difference
provides the following benefits for those looking at moving companies for small moves:
Professional packing into a professional shipping container
Faster transit and delivery times
Simplified pricing for improved budgeting
Specific pick-up and delivery dates
Performance in less time than the industry average
Decreased potential for loss or damage to your household goods