Tips for a Roof Inspection
Look for Algae, Moss, or Piles of Leaves
If you have binoculars, you can begin your DIY roof inspection from the ground. Start by walking around your house and checking your roof for moss, piles or leaves, algae, or other growths or debris. Algae, moss, lichen and piles of leaves can cause serious damage to a roof. That's because they can trap moisture, which can seep into the sheathing below your shingles, and even into the structural elements of the roof itself
Look for Buckled or Curled Shingles
Hot air in your attic can cause your shingles to warp, buckle or curl. Misshapen shingles can compromise the integrity of your roof, letting in water and causing poor ventilation. Curling asphalt shingles should be replaced. If more than one-third of your shingles are curling, it's time to re-shingle the entire roof
Check for Damaged, Missing or Old Shingles
Missing or damaged shingles can also let water seep through your roof. If you have wooden shingles or shake, inspect them for signs of dry rot, either from the ground or from a ladder (don't walk on a wooden shingle or shake roof. Asbestos, slate, or clay tile roofs can suffer from breakage, so look for cracked, chipped, broken or altogether missing shingles. Check a metal roof for signs of corrosion, metal seams, pitting, rusting, or other wear.
Inspect the Roof Up Close
If you can, get up on a ladder and inspect your roof up close. While you're up there, look for damage to the flashings around the chimney, dormers and vent pipes. Damaged or corroded flashings can let water into the interior structure of your roof, and could contribute to rot in the structure of your roof and the walls of your home.
Investigate Your Attic
If your home has an attic, it's important to go into it and look for signs that water has leaked through your roof. Inspect your rafters and the wooden interior of your roof for signs of moisture, mold and rot. Checking your attic for signs of water leakage can help you spot damage that may not have been visible from the ground or from your ladder. If possible, inspect your attic for leaks during a heavy rain; this will show you whether your roof has any active leaks.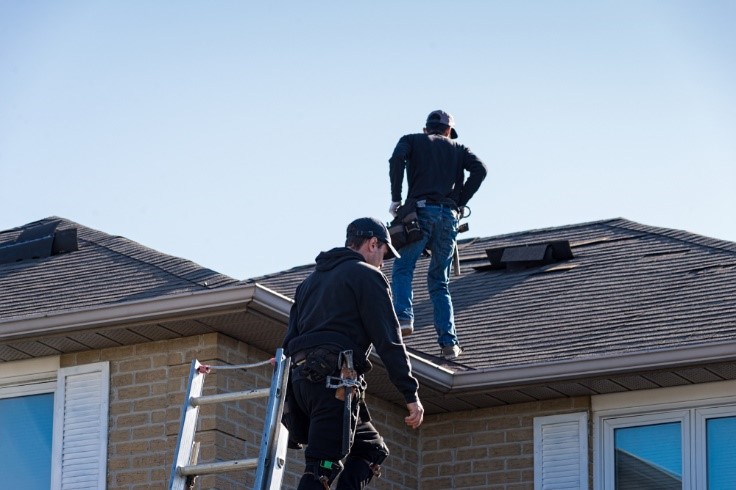 EASY STEPS TO INSPECTING YOUR ROOF
Walk around your home's exterior, inspecting the roof from the ground for signs of damage, sagging, and aging. Take notes of any possible problem areas or areas in need of closer inspection.
Identify areas with moss, algae, and piles of leaves – these areas are notorious for causing costly leaks and water damage
Keep your eye out for buckled and curled shingles! Hot air from attics often causes shingles to buckle and curl away from the home, putting your roof and home at great risk for weather damage and poor roof ventilation.
Look for missing, damaged, and aged shingles – this is the leading cause of roof damage. When you take the time to inspect your roof, you can catch minor issues like these before they turn into major issues followed by serious damage. Missing shingles = direct exposure to inclement weather, plus, they are an eyesore!
It is so important to clean your gutters and roof overhangs and maintain your downspouts! As you're performing these essential tasks, make note of open joins and signs of rot, as those are typical indicators of larger issues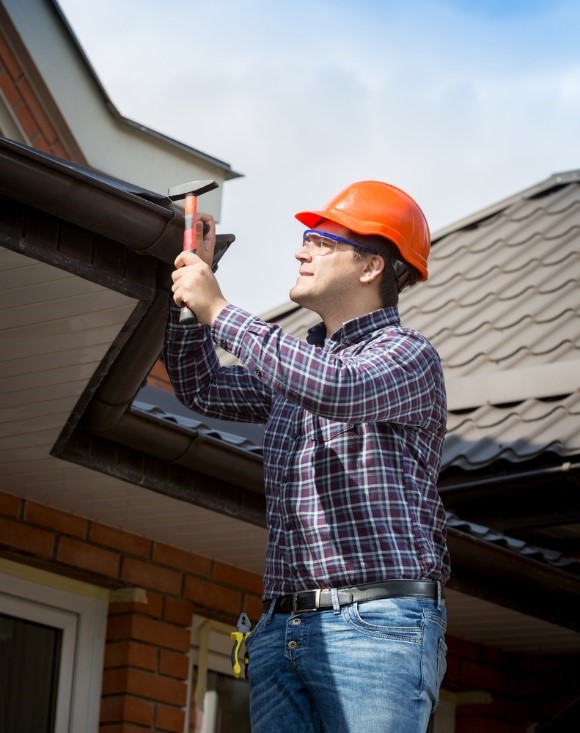 Tips to Ensure Roof Reliability
Make annual inspections of the roof to evaluate its general condition and detect any potential leakage problems before they develop. The best time for an inspection is the spring after severe weather conditions (and the damage they may have inflicted) have passed. In addition, the weather is ideal for repairs if they are necessary
Make the initial inspections from the ground or through upstairs windows where the roof surface can be observed. Binoculars are a good tool to use for the inspection.
Keep gutters and roof surfaces clear of fallen leaves, pine needles, twigs and other litter so that water will drain freely
Keep trees trimmed to prevent branches from scuffing the roof surface. This will also keep the roof surface drier helping to inhibit growths such as algae, mold, fungus or lichen. Keep climbing roses, vines and ivy trimmed back from the roof
Never paint or coat asphalt roofing materials to change the color or give the roof a "new" look. The use of paint or coatings may void the manufacturer's warranty. Consult the individual manufacturer, as this type of treatment may be detrimental to your investment. However roof surfaces may be cleaned if they are showing signs of staining from algae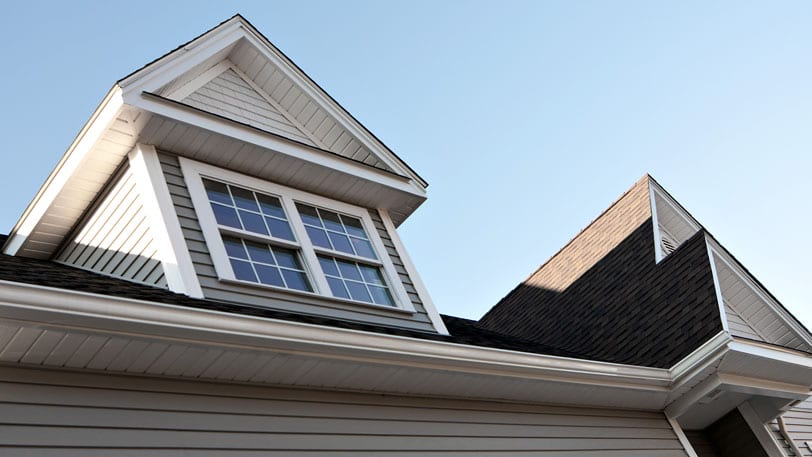 Inspection Tips for Your Home's Roof
Whether it's keeping you dry on a rainy day or warm and cozy on a cold winter night, your roof is a vital part of your home. To help make sure it's protecting you and your family from the elements, regular maintenance and inspections are key. Here are some roof inspection tips to consider
Why Should You Inspect Your Roof?
Regular roof inspections can help identify issues prior to them becoming potentially major problems. It may be easier to fix these smaller issues now, which may save you time and money in the long run
How Often Should You Inspect Your Roof?
Typically, your roof should be inspected at least once a year, according to Zillow. However, you should also check your roof after any extreme weather event, like hail, snow or wind, and look for any interior leaks, says Zillow. Because all roofs are different, it's important to consult a professional to know what to inspect and how often.
Check the flashings. Flashings are metal pieces that cover curves and edges of your roof, and water can easily leak in and around them if they are damaged. Openings around the flashing may need to be resealed with roofing cement.
Look in the gutters. If your roof is composed of asphalt shingles, a professional should look in the gutters for pieces or grains of the shingles. This can be a sign that your shingles may need to be replaced.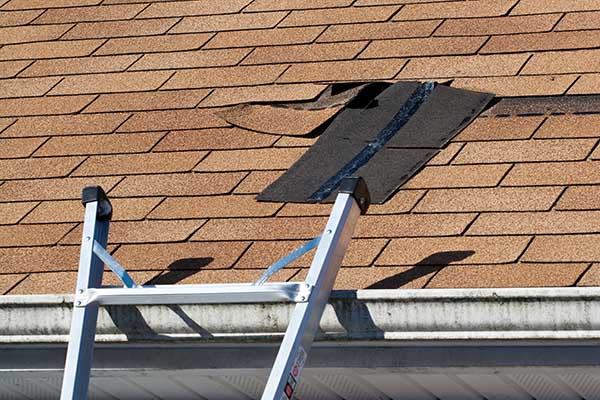 HOW TO INSPECT YOUR ROOF
Too many of us take our roofs for granted — it's not something we think about unless there's a problem. But as your home's first line of defense against the elements, your roof goes through a lot of wear and tear, so it's important to do a yearly visual inspection as part of your home maintenance routine. By giving your roof a brief inspection, small problems won't lead to giant catastrophes.
Look for shingles that are missing or loose, or show signs of heavy wear or degradation (bald spots, granule loss, or severe curling), as these are considered weak points where water can penetrate and cause leaks. While it is normal for asphalt shingles to experience some curling, significant or abnormal curling are indicators that your shingles are reaching the end of their useful life.
GETTING A CLOSER LOOK
After a preliminary inspection from the ground a closer look may be necessary. Safely climb a ladder to get a closer look at your roof. But stay off the roof itself — not only is it dangerous to walk on the roof, you can potentially do more damage to the shingles.
INSIDE-OUT
After examining the roof from the outside, it's time to check things from inside. Armed with a flashlight, inspect the attic and crawl spaces after heavy rains. Do you notice any signs of water damage? Are any of the rafters or decking wet? Has any of the insulation gotten wet? These are all indications that your roof may have a leak
GET THE RIGHT HELP
If you notice any damage, don't waste time and energy trying to fix the problem yourself. Hire a credentialed contractor to properly inspect your roof and repair the problem correctly. Some will do so at no cost to you. You can find a CertainTeed credentialed roofing contractor by using CertainTeed's Find A Pro locator tool.